Organic Coffee - Bio Coffee - Sustainable Coffee - Many names for a unique coffee!
More and more, over the years, there have been more and more labels, tags, labels in any corner of supermarkets and websites that claim the organic nature of a culinary product. It is now found for fruits, vegetables, but also dairy products, eggs and so on.
Obviously, in a society that tends periodically, at a fast pace, towards the production of organic products and foods, coffee could not remain on the sidelines. Here then on several packs of large companies, including Kimbo, to name one of the largest manufacturers in Italy and in the world, or Mokaflor, Speicherstadt, Oro Caffè and Maria Sole to name a few on our site, have modified part of their production to give life to an organic product that can satisfy every taste without subverting the ecosustainable balance of our planet.
But what exactly does BIO do differently?
Organic coffees meet the following criteria, among others:
No cultivation in mixed cultures
Abstention from genetic manipulation
No need for chemical plant products and fertilizers
The recycling of vegetable waste

Important: Organic coffee is not always fair trade, but we make sure that many of our coffees carry both labels, please have a look at our Fair Trade coffee section.
Organic as a legacy of the ancients
"Let food be your medicine and medicine be your food."

About 400 years before the birth of Christ, on the small island of Kos a man was preparing with words like these to give life to a profession that would be the basis of human survival: medicine. This is Hippocrates, among other things also a geographer and philosopher of antiquity, who through various treatises written in the course of his almost centenarian life established the canons of medicine and precepts for a healthy and wholesome life.
It is no coincidence that one of the most solid and important branches of his thought was precisely the one dedicated to food. "We are what we eat", quotes an old proverb, and it is for this reason that it has developed more and more, especially during the last decades, a spasmodic attention, almost coming from the most recondite places of the human soul, towards the cultivation of organic products. And, as said, also organic coffee has made its way in the difficult and intricate world of trade.
The birth of organic coffee (Organic Coffee)
What do we mean by the expression "organic coffee"? Organic coffee [Organic Coffee] can be defined as that type of coffee produced without the use of chemicals such as pesticides [a substance used for destroying insects or other organisms harmful to cultivated plants or to animals.], herbicides [a substance that is toxic to plants, used to destroy unwanted vegetation], additives [a substance added to something in small quantities to improve or preserve it] or herbicides [a substance that is toxic to plants, used to destroy unwanted vegetation.]. An organic coffee is basically a coffee produced by following a non-invasive procedure for the delicate environmental balance of our ecosystem, in full respect of the earth and of the animal and vegetable species living on our planet.
For its cultivation, the main tendency is to use organic substances (this is why it is also called organic coffee, although with some small but important conceptual differences). An organic product in fact indicates a food not processed by industry, of natural origin, but not necessarily organic. Often the two terms coincide, but have this slight divergence. It is easy to fall in error because of the much used English term "organic", which means "biological".
The cultivation of an organic (bio) coffee does not neglect any of the fundamental steps and starts from the primary phases of the process, that is the seeding of the product in order to begin the cultivation. Fertilizers used are natural, in fact, as previously said, it is categorically forbidden the use of fertilizers such as pesticides and chemical compounds.
In order to contrast - without resorting to the help of medicinal products harmful to the environment - the attacks of parasites, natural enemies of the cultivation of coffee plants, the defense of plantations is done by means of biological control and with the use of substances of vegetal or mineral origin. To fertilize, it is used natural products rich in fundamental substances for the microorganisms present in the soil.
A good cup of (organic) Organic Coffee is what you need to relax in the warmth of your home during the winter, sheltering near the fireplace from a gloomy day and bad weather. On our store you can find many variants produced by as many companies and from the best coffee plantations around the world, able to satisfy your palate with an intense aroma but delicate at the same time.
Let yourself be guided by the full body and the lively and intense aroma of Mille Soli Bio, losing your senses among the notes of berries and caramel. If a fruity aftertaste is what most languishes in your taste buds, then you will not be able to do without the strong flavor of Speicherstadt Kaffee Organic Coffee which, with its fruity notes and intense cedar wood aftertaste, will add an extra touch to your day.
An organic espresso is what you need to enjoy a coffee knowing that in its preparation every part of the environment has been respected and safeguarded. An intense sip in full respect of the ecosystem.
The development of fair trade coffee
In recent years, a new concept in the (organic) Organic Coffee or organic coffee trade is also developing: fair trade coffee. Fair trade (Fair Trade, to use the corresponding expression in English) is a form of trade that would like to guarantee the producer and his employees a fair price, while also ensuring the protection of the territory. It is opposed to the maximization of profit practiced by large organized distribution chains and large producers.
Although the first news of an attempt at Fair Trade dates back to the 1950s, even today there are many circumstances in which employees and farmers do not receive fair and honest compensation for their work: this is why many coffee companies are also increasingly turning to this new frontier of coffee production.
Fair trade coffee helps small coffee farmers receive fair compensation and socially insures them. Farmers receive guaranteed prices, so they are not exposed to the large fluctuations of the world market. This allows children to receive an education and reduces child labour, which unfortunately is still encountered all too often in various parts of the world. To be certified Fairtrade, a coffee must follow certain rules and comply with strict parameters, including environmentally sound cultivation and processing, promotion of commercial relationships between producers and buyers, and sourcing from Fairtrade-certified smallholder cooperatives.
Gepa, brand of quality
On our store you will find a varied choice that supports this frontier of the coffee trade in the world thanks to the willingness of companies to encourage and support it even against adversity. Choose products from brands such as Mokaflor, Avanti (bio + Fairtrade), Cellini and Mocambo, or let yourself be guided by the dark roast packaged directly in Ethiopia by Solino caffè, a product that firmly underlines the Fair Trade philosophy of the company, which certainly excels in this category.
The seal of GEPA Fair +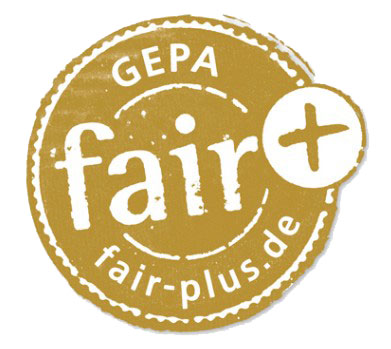 Another prominent company among our torefactors with organic and fair trade products is Gepa, which for over 40 years has been committed to supporting this philosophy and is a synonym and guarantee of a quality product that respects the environment and the people employed on the plantations.
Whether it's a cup of coffee in the morning to wake up and start the day of study or work, or whether you simply need to disconnect from your daily commitments and devote some time to yourself, to enjoy the moment with the intense aroma of a good coffee, choose organic coffee. The organic flavor of coffee produced respecting the surrounding environment and without the use of pesticides and fertilizers will make you feel the true scent of the earth in your mouth, binding you even more to this intangible but so important and delicate good that we have the pleasure to enjoy: life.

For more product information on Organic Coffees contact our customer support here through ✉ or ☎ +44 20 8089 2233