No results were found for the filter!
Robusta Coffee | Espresso
Robusta Is Growing Up
With about 30% contribution to the world production of coffee, the robusta variety, growing on the Coffea canephora plant, is the most significant coffee variety after arabica. The robusta beans demarcate themselves from arabica coffees with their very own set of often underestimated features. Especially during the past couple of years a lot of small and modernly minded roasting companies have discovered these features for their coffee blends and try to refurbish the reputation of robusta coffee.
Nowadays the slightly less demanding Coffea canephora is found in the tropical belt all around the world, mainly being known as the predecessor of the popular arabica variety. But compared to the Arabica plants, the robusta plants have a significantly higher tolerance for large amounts of downfall and high temperatures and can become twice as tall (up to 10 meters) when left untouched. Paired with the capability of withstanding most parasites and diseases and relatively short ripening periods the robusta plants are easy and cost efficient t to cultivate in a lot of areas. Especially for flat and lower areas, this is a major advantage compared to arabica plants. On top of that, harvesting and transport become cheaper in easily accessible areas like lowlands.
Within six months, the canephora plants grow small, round, red coffee cherries surrounding roundish beans with a straight incision.
What Do Robusta Coffees Taste Like?
Of course, it´s hard to generalize the taste and aromas of a coffee variety growing in so many different shapes in just many countries all around the globe. Roughly summed up, key features of the robusta beans are a full body and a unique, well-seasoned aroma sometimes ranging from wood and earth. Robusta coffees can surprise with a fascinating span of aromas like whiskey or tobacco. With slightly higher acidity and a bitterer note, robusta isn't normally considered the easiest coffee to digest. Containing up to 5% of caffeine, it´s a real wake-up coffee though. Because of the longer lasting cream, robusta is sometimes added to arabica coffee in smaller amounts to make the espresso shot look perfect. Today, robusta gives a fine finish to a lot of high-quality coffee blends.
Should you Try Robusta Beans?
As usual, the proof is in the eating. If you start to get into the world of coffee you will sooner or later come across a lot of high-quality blends containing robusta beans. For curious and eager coffee lovers, a 100% robusta blend can be interesting for a change. If you ever tasted a pure robusta coffee, you will be able to distinguish the addition of robusta in any blend. Many a coffee lover will be surprised by excellent arabica-robusta blends with a thick cream that can even carry sugar. Aromas like whiskey, caramel, and wood are a real recommendation for a cappuccino!
100% Robusta beans are available in our single-origin coffee blends which are composed of 100% Robusta beans. Lots of flavor with even more caffeine. You will recognize the typical Robusta coffee flavor at first taste. It is quite distinctive and guarantees more crema. Try our "Muscleman for caffeine junkies" by La Messicana. For experts and lovers of a caffeine bang. Check out "Wakey Wakey Effect" Maestoso Espresso. The Maestoso blend guarantees a powerful aroma experience and can be served as espresso or cappuccino.
Robusta Coffee : full-bodied and strong
The variety of Robusta coffee is often taken less into consideration by the refined palates of connoisseurs. Often considered less sought after and less economical, Robusta quality coffee has gained great popularity especially in Southern Europe and Italy.
Strong, bitter and full-bodied. A coffee with a capital "C", which sacrifices part of the refinement of flavours to leave more room for an incredible charge of energy, thanks to its high caffeine content.
A popular coffee, therefore, but not for this less delicious. Where the raw material is sometimes less sophisticated in itself, it is compensated by a very long roasting tradition.
Robusta is found in most cases blended with Arabica. This serves to reduce the price of the blend, but also to create new balances between taste, body and caffeine.
What began as an alternative variety, almost a B series, has become over time an essential component of tradition and habits of us Italians, the element that gives balance to the coffee blends we drink every day, which compensates with its body and creaminess the gaps of the most famous Arabica variety.
What do Robusta beans look like?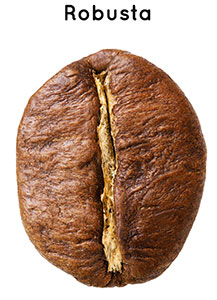 The least demanding Robusta coffee bean (scientific name: Coffea Canephora) is now found all over the tropical belt of the world and is considered the founder of the most popular Arabica plants.

Unlike Arabica, however, Canephora tolerates much more rainfall, grows without the contribution of man almost one and a half times higher (up to 10 metres) and can cope with greater temperature fluctuations.
Considering the shorter ripening times and the high resistance to parasites and the disease called "coffee rust", Robusta is an easy and cheap variety to grow.

Its higher tolerance makes Robusta particularly attractive for low altitude areas, where Arabica does not thrive well. Harvesting and transport are also easier and therefore cheaper on the plains.
A Robusta coffee cherry grows within six months, usually when it reaches the red colour it reaches maturity and produces small, round beans with a straight cut.
Coffee for everyone: Robusta
Coffee was born as a delicacy for the few, but it quickly spread even to the lower classes.
In 1900, a large part of the Italian and European population was already used to consume coffee. After all, it is a pleasure that is easy to access.
The appreciation of the drink, however, suffered a setback during the World Wars, where the embargo and the difficult supplies made it difficult to find crops from the growing areas.
When the situation stabilizes and population conditions improve, there is an immediate need to quickly regain a presence in a very weakened market.
To meet growing demand, abundant harvests are needed and this is where Robusta comes in. The Coffea Canephora plant is in fact called "Robusta" because of its resistance.
This coffee plant, in fact, as already mentioned, is able to grow at lower altitudes than the noble Arabica and is also more resistant to diseases and parasites, managing to grow even in less favourable climates.
Thanks to its cheapness and yield, this variety of coffee starts to spread richly in Europe too, so much so that it becomes a pillar of the Italian tradition, as well as a balancing element for blends, tasted all over the world.
The taste of Robusta
The Robusta is usually less esteemed than its sister Arabica.
This is true in most scenarios, however, in order to properly assess the qualities of a good coffee, there are other factors to take into account: soil properties, climate, ripening time, drupes selection, harvesting, processing and roasting.
It is difficult to generalise the taste of such a diverse variety of coffee. Described in a broad way, however, Robusta coffee beans are characterised by a fuller body, with a certain spicy note that can lie between wood and earth. Different aromas, often similar to Whisky, can offer an interesting variety. With a slightly higher acidity and a more bitter note, Robusta coffee is not always the lightest, but with its very high caffeine content of up to 5%, it really wakes you up. Also thanks to the longer-lasting cream, Robusta coffee is added to Arabica to a lesser extent, especially for the preparation of espresso coffee, and completes many high-quality blends.
Speaking of taste: "when you taste Robusta coffee, the first things you notice immediately are the body and bitterness."
Robusta is notoriously more bitter, dense and creamy, with a slight viscosity and a more pronounced astringency. The acid smell is decidedly reduced, as is the sugar charge, which is usually typical of Arabica.
Compared to Arabica, Robusta's qualities boast on average double or even triple the amount of caffeine. The energy charge is guaranteed.
The creaminess of Robusta coffee is also supported by the flavours that can be perceived during tasting: chocolate, hazelnuts and dried fruit.
One of Robusta's richest qualities is, for example, the "Kaapi Royale" variety from India, which has absolutely nothing to envy from the Arabica of excellence.
Try a 100% Cafè Robusta? Why not!?
Often underestimated, Robusta deserves great recognition for its contribution to the preparation of coffee.
Mixing it with Arabica you get a delicious product, balanced in flavour, aroma and texture. Eaten alone, in a 100% Café Robusta blend, this quality of coffee offers a completely different experience. Rich in creaminess, body and caffeine, it is perfect for an awakening full of taste and energy.
Here too, the rule that tasting is worth more than studying. If you put a little effort into it, you can find quality blends. Once you have tried the pure Robusta, you can taste any blend of Arabica-Robusta.
Many espresso coffee lovers will be pleasantly surprised by the sometimes excellent Robusta coffee, because of its thick cream on which the sugar remains on and its unique aromas of whisky, caramel and wood: especially in cappuccino it is a real bean!
In our assortment are worthy of note Mokaflor Dolce Forte, Hardy Universo and Caffè Borbone Rossa.