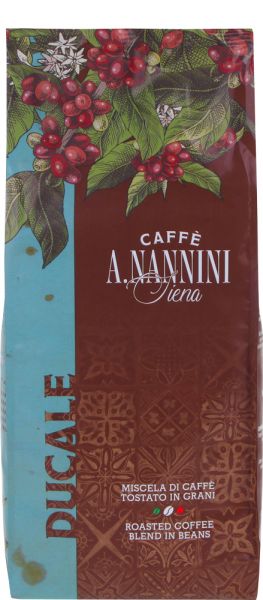 Nutty, Fruity & Balanced
Coffee Nannini Espresso Ducale
Beans, bag of 1000 g
Top class gourmet espresso. Alessandro Nannini only uses carefully selected Arabica and high-quality Robusta beans. The result is a soft and lush blend (80% Arabica / 20% Robusta), with a full and harmonious flavour and notes of cocoa and chocolate.
Roasting date:
10.2023
Best before:
04.2025
12-14 Workdays Extended delivery time
Please note that if you purchase this item, you should expect a longer delivery time for your entire order. We cannot ship other items in your order, that are in stock, ahead of time. Article No. 1055
Article No.

1055

EAN:

8019247000157
Advantages
Fast shipping with DHL
Imported directly from Italy
Freshness guaranteed

Manufacturer:
Dolci Nannini Siena Srl, Strada Massetana Romana, 44, 53100 Siena, Italy
Produktion: Strada delle Frigge, 5, 53035 Monteriggioni (SI)