Are Eco and Fairtrade coffee really worth it?
Today, fairly traded coffee from ecological farming backgrounds is more popular than ever. But are those promising labels really worth spending more money? Basically: Yes, but even more so, when the coffee has been traded as directly as possible. Although a lot of products wearing the Fairtrade signet made bad press most recently, the intention behind the fairly traded coffee from sustainable farming is legit and important for the future of a lot of countries.
What is Fairtrade?
Fairtrade is the most popular and best-known singet-initiative of the world. This worldwide nongovernmental organization is addressing farmers, importers and middlemen with strict linings and requirements in terms of the prices being payed to the farmers and middlemen, trying to improve the farming and living conditions of the poorest end of processing chain of coffee. High and more importantly, a steady commission is far easier to handle for small cooperatives or single farmers than unpredictable changes in price and demand of the world market. Coffee and a lot of other products, following these requirements are signed with the famous green and blue signet of Fairtrade.
Rainforest Alliance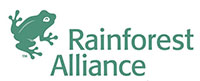 Fairtrade and Eco Products aren't always being praised these days. Both increasingly focussed on the mass market and both sometimes lack the transparency necessary for comprehending all the stated benefits for the poorest end of the coffee industry.
The Rainforest Alliance wants to lead with good example. Their initiative wants to warrant for quality as well as Fairtrade, especially more direct trade and wants to increase the sustainability in the countries of origin by giving free agricultural education to the local farmers.
Other than most singet-initiatives, the Rainforest Alliance does not pay a fixed price to its farmers. By training and actively supporting and looking after the farmers, they are supposed to learn, how to independently prove themselves in the world market using nothing but fair trade and sustainable methods to create coffee of superior quality and unique aromas.
With stringent environmental guidelines and the reversion to natural mixed-crop farming, the Rainforest Alliance achieves a sustainable environmental protection and profitable, productive cultivation without any synthetic fertilizers or pesticides. Even the endemic fauna is prospering in the newly created, naturally grown habitats, giving sustainable and value to animals and people.



GEPA Fair plus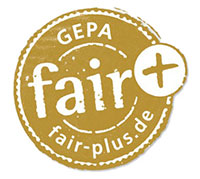 In 1975, GEPA was formed from a network of the Church Development Service (KED), Misereor and the newly founded Association of Third World Shops.
1986 GEPA introduces the first organic coffee in Germany.
In 1990, GEPA made an international commitment to the organic farming associations to ensure that fair living and working conditions were part of organic farming. With success! Naturland's guidelines today include not only ecological but also social criteria.
1997 Award for aluminium-free coffee packaging. The criteria were innovation, design and environmental compatibility.
This chronology of success could be continued indefinitely. GEPA has set its own high standards far beyond the requirements of normal quality seals. GEPA therefore focuses on its logo as a brand on the new product packaging and largely dispenses with the Fairtrade seal. With the additional sign "fair +" it draws attention to its pioneering work and the goal of achieving more than the general Fair Trade criteria.
What is Direct Fairtrade?
Everyone is talking about it today, the new, direct Fairtrade. But what is it? And how does it differ from conventional Fairtrade? Is direct trade really fairer trade?
Direct Fairtrade Coffee
You can only be really sure about the production of your coffee if you are sure where it comes from. Globalization has enabled us today like never before to learn something about our coffee. Direct Fair Trade is the coffee trade without intermediaries. Numerous small cooperatives and small farmers benefit from a direct relationship with the roasting plant, which eliminates cost-intensive intermediaries. The chances of promoting sustainability on a small scale and avoiding environmental damage are much better here, as the farmers receive clearly above-average prices for their coffee and can afford to protect the environment more than many of the farmers who live on the subsistence level. Germany, too, is now trying to make its contribution to Direct Fair Trade. For example, Solino is roasted in its country of origin Ethiopia and reaches our shop through direct, fair trade. Although Direct Fair Trade is not a seal of approval, it is a serious commitment on the part of everyone involved. Traceability is the keyword for the sustainable support of producers. It is therefore best to buy coffee from which you really know where it comes from.
No comparison
Since direct trade coffees are generally high-priced, they are usually associated with specialty coffees. Through direct trading, it is often possible to determine without any doubt which plantation the beans come from, why they taste like and what makes them special. Direct trade is therefore usually not in direct competition with the Fairtrade logo, as the coffees are in completely different price categories.
So what's best?
To make a long story short: Direct Fair Trade. You can only be 100% sure about the quality and sustainability of the coffee you are drinking if you are 100% sure, where it is from. Through now-days globalization, today more than ever we have the possibility to learn as much about our coffee as we can. Direct Fair Trade basically means trading coffee without any middlemen. Numerous smaller cooperatives and small-scale farmers are profiting by having a direct trading relationship to the roasting company. Cost-intensive middlemen and importing companies are being eliminated. The chances to improve the sustainability in this small scale and to support the protection of the environment are a lot better with direct fair trade because most of the farmers are being paid a good price for their coffee and on top, they are being paid everything, the middlemen would normally ask for their services. These framers can for the first time afford environmental protection and the reversion to sustainable farming. Other farmers, living at the edge of the subsistence level, usually cannot afford to watch out for wildlife, nature and their workers being exposed to dangerous chemicals.
Germany is trying to contribute towards direct fair trade by lowering the coffee taxes for selected countries known for direct fair trade coffees. For example, our Solino is roasted in its country of origin, Ethiopia and makes its way into our shop by direct fair trade. The already well known ORANG-UTAN coffee is also a great coffee project.
Even though direct fair trade isn't actually an organization or signet like Fairtrade, it is a serious commitment of everyone involved. A commitment to improve the world of coffee and with it, a little bit of the whole world, one coffee bean at a time.