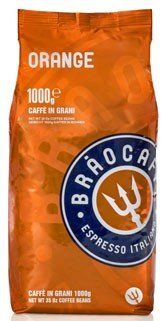 Nutty, Malty & Strong
Note: New packaging design - the name used to be Coffee Rosso
Brao Coffee Orange Espresso
1000g whole beans
The Brao Orange is a strong espresso blend composed of 50% of the finest Arabica beans from South and Central America and 50% Robusta beans from Africa.
An espresso Coffee, with an aromatic, full-bodied and flavorful taste. Lends the cup of coffee a nice cream, lasting finish with a strong flavor.
This classic espresso blend is perfect for preparing breakfast coffee and ideal for cappuccino.
All bean varieties are separately roasted and subsequently mixed. To get the absolute best out of every single bean.
Roasting date:
08.2023
Best before:
08.2025
3-5 Workdays Article No. 1480
Article No.

1480

EAN:

8009360502744
Advantages
Fast shipping with DHL
Imported directly from Italy
Freshness guaranteed

Manufacturer:
Mokamo s.r.l. - Centro Caffè Trento s.a.s., Viale Verona, 129, 38100 Trento, Italy